Can Invisalign Be Used After A Dental Implant?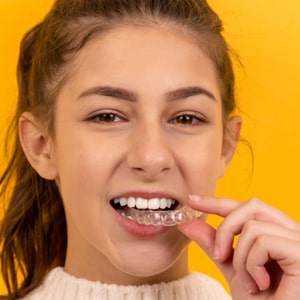 Invisalign is a teeth alignment treatment that is fast capturing a lot of attention among people who wish to correct the alignment of their teeth, overbites, and crowding problems, and that too, invisibly. In our previous blog we have explained about how Invisalign in Los Gatos works and align teeth? Invisalign are clear retainers that are sure to improve your smile and make it more attractive. Dr. Kamyar Negari is a renowned dentist at Esthetic and Family Dentistry in Los Gatos. Go for an appointment with him to get convincing answers to your questions.
Can Invisalign in Los Gatos Be Affixed Post a Dental Implant?
It is one of the major questions asked by many patients who have already gone through a dental implant procedure and are planning to get Invisalign in Los Gatos. In simple words, the answer to this question is yes; you can go for Invisalign treatment after a dental implant. It is pertinent to understand where and when Invisalign treatment is used. The treatment is also available for people who have gone for fillings, crowns, and bridges treatments.
5 Factors to Consider While Choosing Invisalign in Los Gatos After Dental Implants:
Ideal Situation:

Ideally, it is better to get Invisalign first and then go for the dental implant procedure. Invisalign will gently nudge teeth into their final position, and implants cannot move as they are already fixed to the bone. People who realize that they need Invisalign treatment in Los Gatos after getting implants can go for it as it will not affect other teeth being pushed or aligned to a new position.

Consult an Orthodontist:

It is always better to visit an orthodontist, get yourself thoroughly checked, and seek the implant dentist in Los Gatos opinion about the procedure, and ensure that your dental implants will not move while getting the Invisalign treatment done.

No Involvement of Teeth:

There are certain treatments where teeth are not involved, and as such, there is no impact on the patient's ability to get proper orthodontic treatment. Many people may also go for Invisalign in Los Gatos treatment to straighten only their front teeth while the dental implants are in the back of the mouth.

In Case of Anchoring:

Similarly, it is possible to go for Invisalign if the dental implant is only used for anchoring and helping other teeth move in the right position. Our implant dentist in Los Gatos will help you in guiding throughout the treatment.

Steer Clear of Your Doubts:

Thus, there is no chance of dental implants getting dislocated while the patient is undergoing the Invisalign treatment.
Conclusion:
Your search for the finest implant dentist in Los Gatos will culminate with Dr. Kamyar Negari at Esthetic and Family Dentistry. Schedule an appointment with him. For more information call us at 408-377-8302 and schedule an appointment today.
---
---