Cosmetic and Family Dentistry: Who To Visit for What?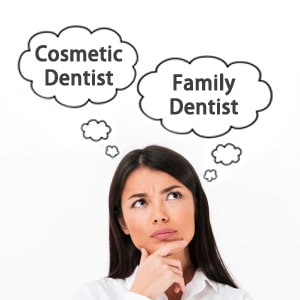 Oral health issues should be given the same importance as other body-related issues. Oral hygiene is not only about having a perfect smile. It encompasses a lot of other things. Routine dental check-ups are a must no matter how young or old you are. So having a family dentist in Los Gatos is very important especially if you have elderly members and kids in the family.
Having said that, people are very confused if they need to visit a cosmetic dentist or family dentist for an oral issue. This is because many oral issues are cosmetic and medical. But, they are different issues demanding attention from the correct specialist. In our previous blog, we have explained 5 importance of visiting a cosmetic dentist in Los Gatos. Read on to know how the family dentist is different from a cosmetic dentist and whom to consult for your dental problems.
What Separates a Family Dentist From a Cosmetic Dentist in Los Gatos?
Family Dentist:
Family dentists in Los Gatos are very similar to general dentists when it comes to taking care of the complete oral health of the patient. They take care of oral health for all age groups.
Services Offered:
Family dentists clean the teeth and keep a check on gum disease and cavities with the help of x-rays. They also perform small treatments like cavity filling, flossing, teeth cleaning, and cracked teeth.
During the check-ups, if they identify any complex issues then they will send the individual to a specialist. For example, the family dentist may refer you to an endodontist, oral and maxillofacial radiologist, oral and maxillofacial surgeon or an oral medicine and pathologist. For example, if your family dentist decides that you need an Invisalign treatment he will refer you to an orthodontist.
So, it is always advised to choose a dental clinic that offers family dentistry like Esthetic and Family Dentistry where Dr. Kamyar Negari practices.
Cosmetic Dentist:
Cosmetic dentists in Los Gatos take extra training in cosmetic treatments. They focus on the appearance and enhancement of the smile of the patients. Cosmetic dentists provide bridges, crowns, inlays and onlays, braces, dental implants, veneers, composite fillings, teeth whitening, and more.
Invisalign:
Invisalign in Los Gatos is the treatment that is part of cosmetic dentistry and performed step by step. The impression of the teeth is taken initially. After this a 3D image will be examined. The first set of aligners will be made in the lab matching the original teeth color. This will have to stay for 22 hours every day in a patient. Regular checkups to see the position of the teeth should not be missed.
Implant Dentist:
Implant dentists in Los Gatos provide dental implants. They use implants and crowns to fix missing teeth. These tiny titanium devices are planted inside the gums and a crown is placed on the top.
In a Nutshell:
Family dentists are also trained in cosmetic dentistry. But the most important point to remember is that cosmetic dentists only perform cosmetic treatments on a regular basis and possess unmatched experience. So, choose a family dentist or a cosmetic dentist wisely.
Conclusion:
If you are in Los Gatos and looking for a dentist in Los Gatos, then consider Dr. Kamyar Negari who practices at Esthetic and Family Dentistry. Browse through our website to learn more about the services they offer. Dial 408-377-8302 to arrange for an appointment right away.
---
---